Nigeria Will Not Spend N1 Trillion On Subsidies This Year – Osinbajo
— Jan 23, 2016 5:00 am | Leave a comment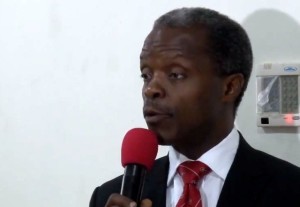 Vice President Osinbajo says Nigeria will not be spending N1 trillion on subsidies in 2016, like it did last year.
Speaking to CNN's business analyst, Richard Quest in Davos, Switzerland, Osinbajo also said that every Nigerian trusts President Muhammadu Buhari to stand by his promise to fight corruption.
He was enthusiastic about Nigeria's chances of surviving sharp falls in crude oil prices, saying the country has a lot of room for revenue generation other than oil.
"We spent something in the order of $5 billion (N1 trillion) on subsidies last year and we are not going to have to spend any of that this year, so that's a substantial savings. So for the man on the street, for the man who is going to the pumps to buy petrol, that's good news," he said.
"We have plenty of room in domestic resource mobilization, we have plenty of room in taxes, we are collecting 20 percent of VAT at the moment and we can widen that coverage, do much more in terms of coverage of revenue, plug in leakages, fiscal discipline, I think there's just plenty of room. We would survive even at that oil price".
When asked why he thought the president's anti-corruption would not end like previous ones with good intentions and no results, Osinbajo said: "The first thing is personality. The president, President Buhari, is known for his stand against corruption for years." "Every Nigerian trusts him and every Nigerian knows here's a man that would stand by his word. That, I think, is a very important part of all of these.
"I think the country is ready for a change, I think everyone is saying this is the time to fight corruption, this is the time to get some discipline in governance. I just think that there is a sense that the moment is here."