TELECOM AND IT SERVICES
 Our professional team are at your service upon request. The first thing we do is assessment to determine your needs after which will we make recommendation based on your budget.
HARDWARE AND SOFTWARE SALES
Our Telecom and IT services can provide Telecom hardware like Satellite Dish, Cell station Tower, Mast, Ericsson and Motorola equipment, routers, computers to name a few and as little as RJ45 connectors. We have provisions for all kinds of software as required by each client.
WIRELESS NETWORK DESIGN, IMPLEMENTATION AND MANAGEMENT

We provide secured and unsecured public and private wireless anywhere for you.
LOCAL (LAN), METROPOLITAN (MAN) AND WIDE AREA NETWORK (WAN)
We provide professional  and expert services in secured LAN, MAN and WAN at low cost. The option of cabling or wireless is yours.
DATABASE DESIGN AND IMPLEMENTATION
Database Server deployment, data migration and management are carefully done to save your existing data.
FAULT TOLERANCE AND BACKUP DEPLOYMENT
Expert in backup management. Your data is  vital to your business
UNINTERRUPTED POWER SUPPLY (UPS) PROVISION
To keep your system working 24/7,  call us, our power management team is at your service.
TELECOM SERVICES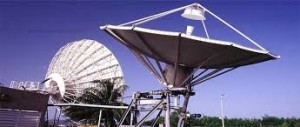 We install Satellite dishes, Towers, Mast, Ericsson and Motorola equipments with associated software. This can also translate to a wireless  telecom within a University Campus with data and voice over IP. If you an ISP provider and you want to start new or you need to expand your network, we have a solution for you. If you want to start a new business or existing business, we have a solution for you. Our IP solution that provides voice, video and data are available to you.
For your business use we recommend the integration of PABx  into your computer system via VoIP.
IT SERVICES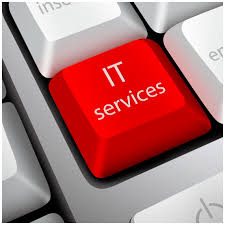 IT service management
IT service management (ITSM) refers to the entirety of activities – directed by policies, organized and structured in processes and supporting procedures – that are performed by an organization or part of an organization to plan, deliver, operate and control IT services offered to customers.  It is thus concerned with the implementation of quality IT services that meet the needs of customers, and is performed by the IT service provider through an appropriate mix of people, process and information technology.
Differing from more technology-oriented IT management approaches like network management and IT systems management, IT service management is characterized by adopting a process approach towards management, focusing on customer needs and IT services for customers rather than IT systems, while stressing continual improvement
As a discipline, ITSM has ties and common interests with other IT and general management approaches, e.g., quality management, information security management and software engineering. Consequently, IT service management frameworks have been influenced by other standards and adopted concepts from them, e.g. CMMI, ISO 9000 or ISO/IEC 27000.
Information Technology Infrastructure Library (ITIL)
IT service management is often equated with the Information Technology Infrastructure Library (ITIL),ITIL processes are grouped into five stages of the service lifecycle: service strategy, service design, service transition, service operation and continual service improvement.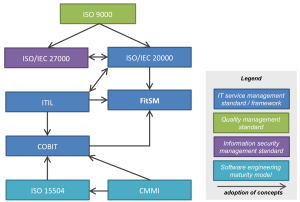 Other ITSM framework
Business Process Framework (eTOM) is a process framework for telecommunications service providers.
Creative Common licenses. Its basic process framework is in large parts aligned to that of ISO/IEC 20000
MOF (Microsoft Operations Framework) includes, in addition to a general framework of service management functions, guidance on managing services based on Microsoft technologies.